Tours
Book your experience today!
Schedule your tour at
Hilmar Cheese Visitor Center!
Fun for all! Public ice cream making tours, free STEM school field trips, tours for bus groups and more.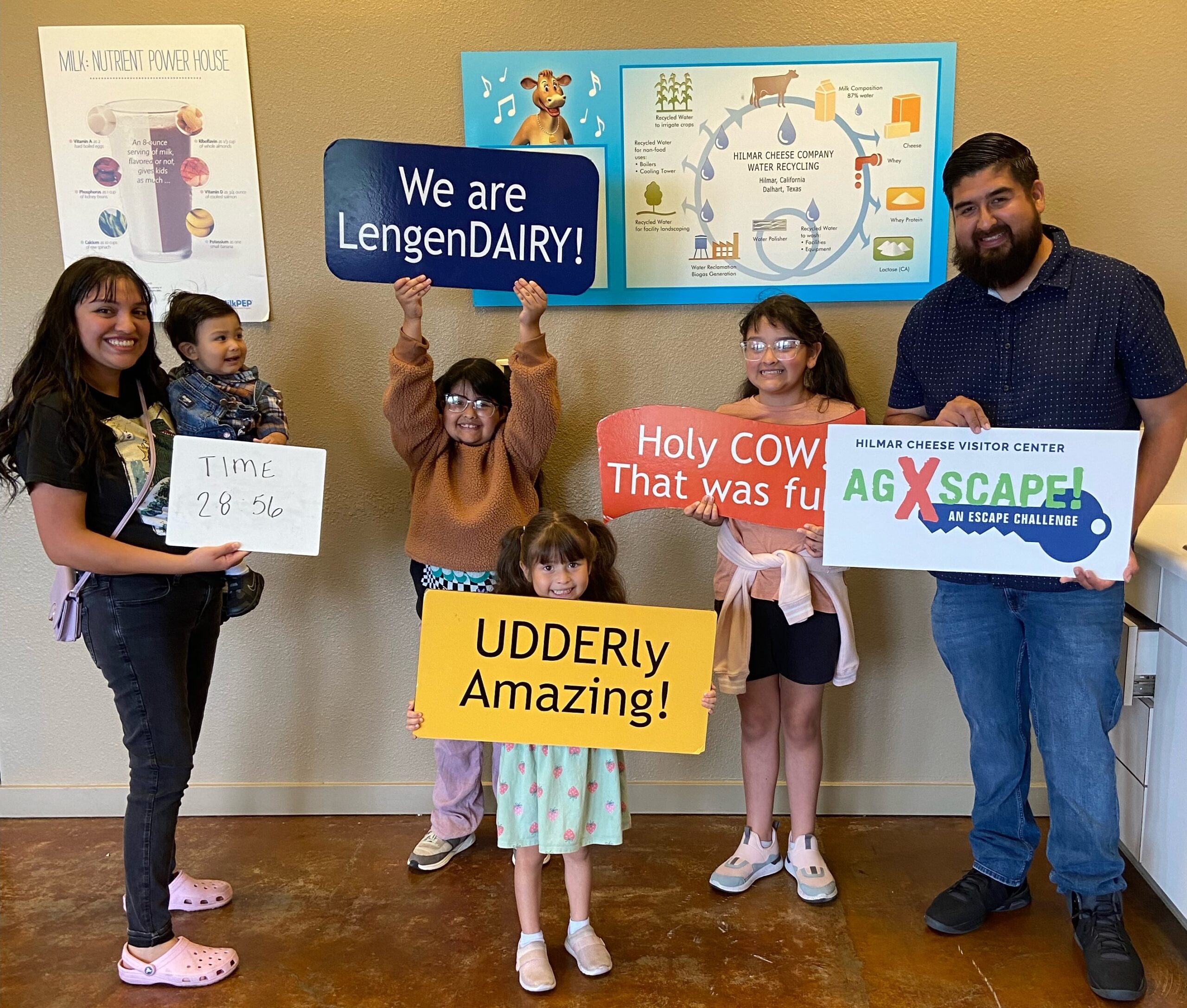 NEW AgXscape
An escape game challenge
Reserve your spot for a public AgXscape Game!  "Secret Agent" teams of 2-4 adults or up to 6 with children progress through a series of simulated dairy farm challenges to unlock the secret answer. Fun game style, not in a immersive escape room. Offered year-around on Saturday at 10:15 am. Then plan to enjoy lunch in our Café. Fun team building activity for employers, organizations and those seeking something fun and different! See the booking schedule for AgXscape special hours during summer and during the school vacations for Thanksgiving, Christmas, New Year's Day and Spring Break (closed on the official holiday). Groups of 10 players or more or schools may reserve a private AgXscape challenge by completing this form. Six challenge sets can accommodate up to 36 players total per 45 minute session. See our current openings and reserve a date.
Public Ice Cream
Making Tours
Reserve your spot for a public ice cream making activity and tour! "Shake, rattle and roll" with this hands-on activity to freeze a fun-sized bag of ice cream, watch the cheesy MOOvie, explore the exhibits, see the BIG CHEESE and get a special gift at the end! Offered year-around on Saturday at 11 am and then plan to enjoy lunch in our Café. Summer tours Monday-Saturday: June 2-August 25, Holiday tours Monday-Saturday during the school vacations for Thanksgiving, Christmas, New Year's Day and Spring Break (closed on the official holiday). Groups of 10 or more may reserve private tour by completing this form. See our current openings and reserve a date.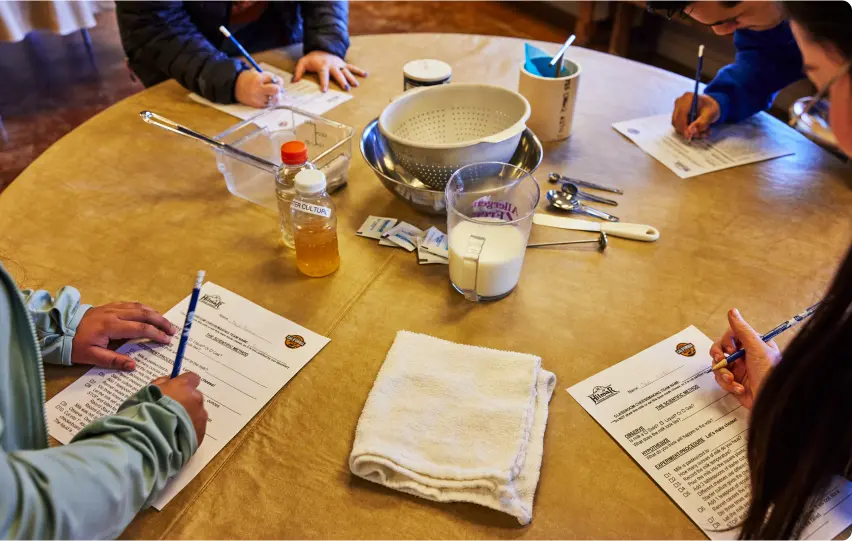 School &
Youth Tours
Experience STEM in Agriculture!
Free Public and Private School Tours.
Join us for a fun and educational field trip in the Central Valley! Hands-on activities to explore the science and technology in dairies and cheese making. Viewing windows to see employees package the Big Cheese, 640 lb. blocks.  Organized and led by trained tour guides, safe and fully accessible. All students receive free cheese samples, a hairnet, Daisy's Dairy "ABCs" booklet and a souvenir pencil.
K to 8th Tour and FREE Ice Cream Making Activity, 90 minutes
Educational tour plus actual hands-on ice cream making. Each student makes his/her own ice cream during a lesson that integrates science, math and reading while developing listening and direction following skills. A food safety theme is emphasized. Each student will enjoy his/her own personally created ice cream sample.
4th Grade to Adult Tour And FREE Cheesemaking Experience, 90 minutes
Educational tour plus actual hands-on cheesemaking. Student teams follow the scientific method to make cheese; measuring volume, weight, time and temperature. The lesson integrates reading, writing, critical thinking, teamwork and decision making to achieve results. Food safety is emphasized along with nutrition concepts.
Free for all public and private classes and homeschools (minimum student group of 10) associated with a school district, reservations required.
School Tour Start Times – 9:30 am (or earlier), 11:00 am (groups often eat lunch in our park before the tour), 12:30 pm and afternoon times available, Monday through Friday.
School Tour Months – January through October
Group Size – Minimum 10 and Maximum of 125 students plus chaperones rotating through the program. Groups of fewer than 60 students may be combined with other small groups.
Scout Tours Earn a Patch $4 per scout 45-60 minutes. Tours available after school by reservation. Choose between the tour and ice cream activity for all ages or tour and cheesemaking activity for scouts 9 years or older. Request a tour today!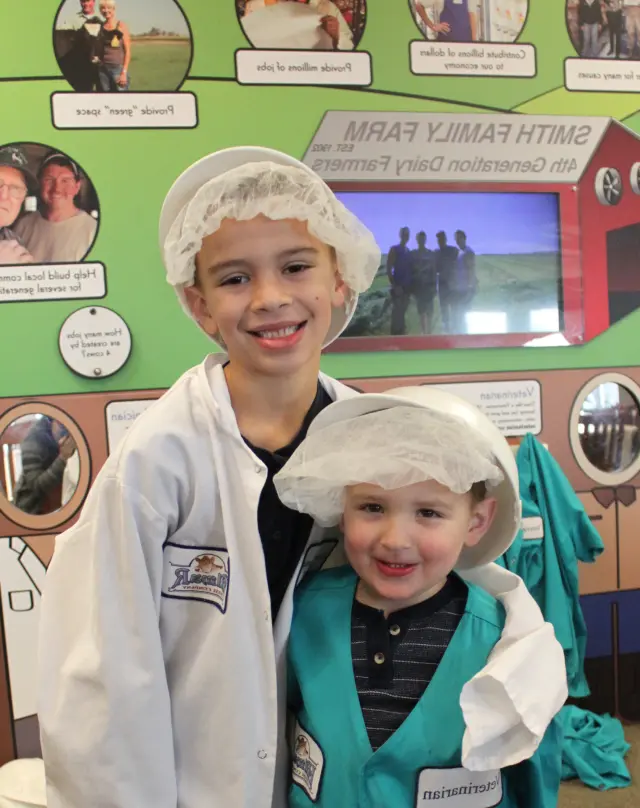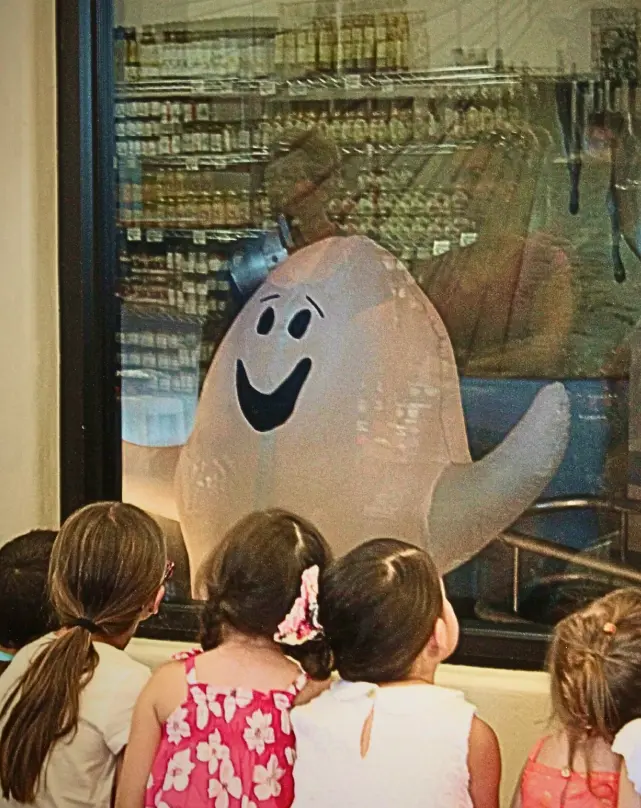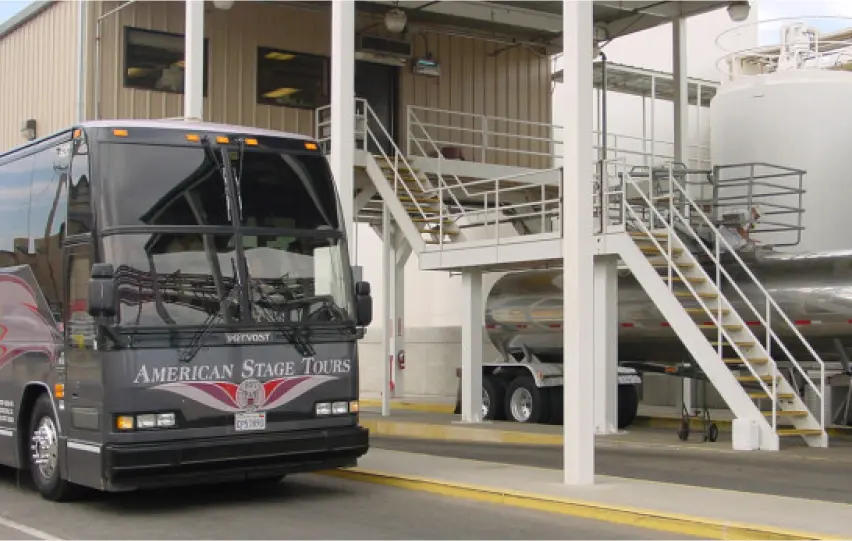 Bus and
Group Tours
Stop For The Cheese – Stay for Lunch!
The best stop along Highway 99 from San Francisco to Yosemite. Free cheese tasting, front door drop-off/pick up with ample bus/group parking and motor coach operator and tour director thank you gifts. A great comfort or meal stop with a Café, Peet's Coffee & Espresso Bar and an ice cream counter. Drop-by buses are welcome. Your guests will love complimentary fresh cheese curds called "squeakers."
For groups planning a tour, lunch and shopping time, allow about 1.5 hours or so.
Tour Group Meals by Hilmar Cheese Company Catering
Culinary Agri-tourism! Learn how cheese is made then enjoy a catered meal featuring our homemade Cheese Chowder Soup and famous Cream Cheese Brownie or Cheese Pie (better than any cheesecake!). We offer breakfast, lunch, dinner, charcuterie boxes and a dessert sampler. Motor coach operator and tour director meals are complimentary with a catered meal for 30 paid guests or more. Pricing is inclusive of tax. If you don't see what you would like, let us customize a meal for you.
Behind The Scenes Motorcoach Tour
Only available to our motorcoach guests by reservation. Please call 209.656.1196. Our tour guide boards your coach to take a 15-minute drive through the world's largest cheese and whey manufacturing facility. Only available if you come aboard a bus.
Please fill out the request form below for more information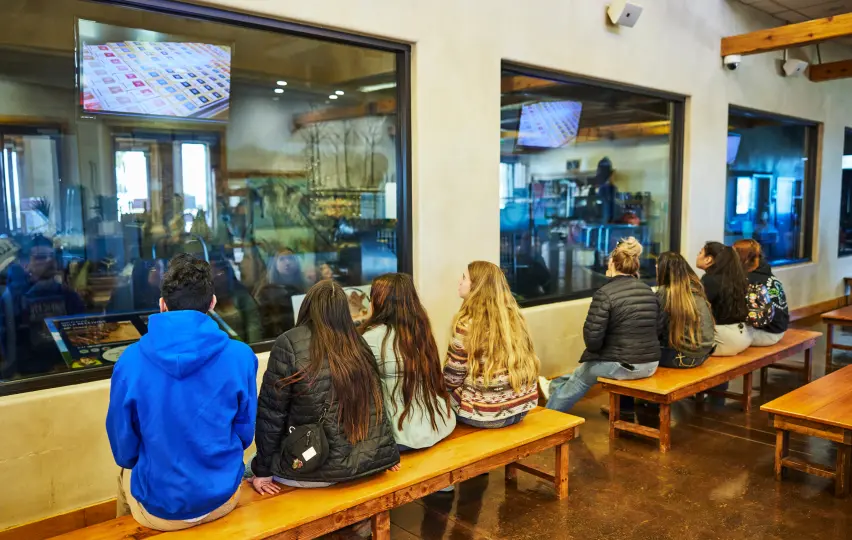 Free Self-Guided
Visitor Center Tour
Learn at your own pace how cheese is made and explore interactive, hands-on exhibits about cows, dairies and cheesemaking. Watch Daisy's MOOvie, ask any staff member to start the show. See employees package the "big cheese" – 640 lb. blocks of cheese. The facility is accessible. Call 209.656.1196 to see if the second level exhibits and viewing windows are open if you plan to visit on a Saturday.
Virtual Tour
Too far away to visit?
Take our virtual tour!